Decision Maker's Guide to Resin 3D Printers & Materials
Learn all you need to know about professional resin printing and materials to find the best resin 3D printer for your business.
So you think you want a resin printer, more resin printers, or to upgrade to a more powerful resin printer for your company? You've come to the right place.
Professional-level resin printing is used for everything from tools and prototypes to sports equipment and medical implants. But if you're not sure how resin printing – also called stereolithography (SLA) and vat polymerization – differs from other 3D printing methods, such as selective laser sintering (SLS) or fused deposition modeling (FDM) technologies, check out these articles "SLA vs SLS: The Differences – Simply Explained" and "FDM vs SLA: The Differences – Simply Explained".
There's no set rule for which method is best for any particular professional 3D printing application. However, resin printing is prized by companies in virtually every industry that need:
parts comparable to injection molding
parts with intricate details, complex geometries, and fine features
parts with very smooth surfaces or soft textures
parts in a variety of materials (flexible prints one day, sturdy prints the next, etc.)
parts in biocompatible plastics
transparent parts
Different Technologies of Resin Printers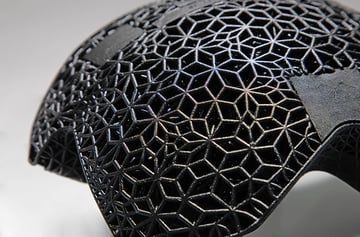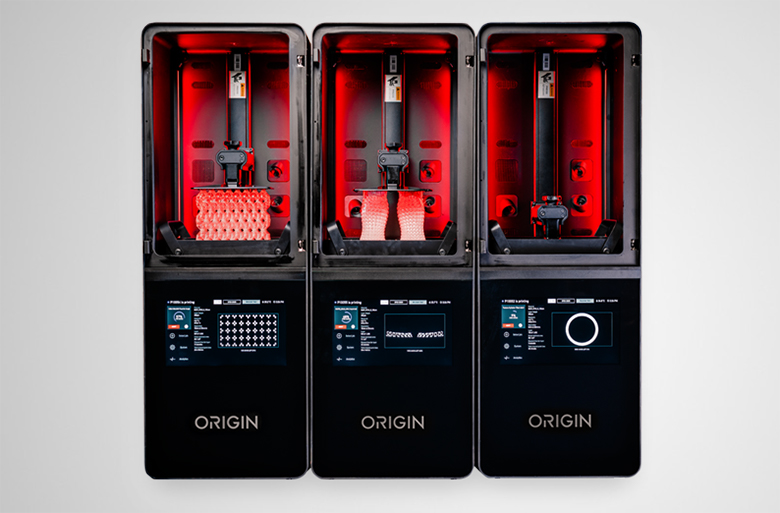 You've concluded that resin is right for you, now what? Let's assume you're familiar with the basics of resin printing – using a vat of liquid photosensitive plastic exposed to UV light to build an object layer-by-layer. Now, within the resin printing category, you'll find different printer technologies – stereolithography (SLA), digital light processing (DLP), liquid crystal display (LCD), and others – to create somewhat different results making trade-offs between speed and quality, and distinguishing some unique printers from the pack.
To get grounded on the details of the three most common technologies, read our in-depth guide here: Vat Polymerization: What Are SLA, DLP, and LCD?
Technology terms can get confusing. Stereolithography (SLA) today generally always refers to laser stereolithography and the general term masked stereolithography (MSLA) is often synonymous with LCD.
Although some branded technologies are more marketing than science, some manufacturers have variations on the common technologies that actually represent significant advances. Carbon calls its resin printing technology Digital Light Synthesis (DLS), Origin calls its technology Programmable Photopolymerization (P³), Formlabs offers Low Force Stereolithography (LFS), and Azul 3D is the first to commercialize the newest high area rapid printing (HARP), which is scheduled to become available sometime in 2021. There's also lithography‐based metal manufacturing (LMM) and projection micro-stereolithography (PµSL).Origin One is a manufacturing-grade printer that enables additive mass production of end-use parts. (Source: Origin)
Stand-Outs Among Resin Printer Technologies
Although there are a lot of comparable printers on the market, a few manufacturers have unique and often patented technology that produces some impressive results.
Carbon's Digital Light Synthesis (DLS) 3D printing process, for example, uses digital light projection, oxygen-permeable optics, and "programmable liquid resins" to produce parts that are then baked in an oven that sets off a secondary chemical reaction and causes the materials to strengthen. The print process is also very fast. Carbon says it can print in minutes an object that would take hours with standard resin-based processes.https://www.youtube-nocookie.com/embed/23at9QglAm8?feature=oembed
Origin's relatively new Programmable Photopolymerization (P3) process relies on technology to control light, temperature, and other conditions within the printer to produce more accurate and consistent 3D printed parts, the company says.
Incus debuted a metal resin printing technology in 2019, which uses metal powder homogeneously dispersed in resin and selectively polymerized by exposure to light. This lithography‐based metal manufacturing (LMM) method creates parts with the same material properties as those produced by metal injection molding, the company says.
Masked stereolithography (MSLA) uses an LED array as its light source, shining UV light through an LCD screen displaying a single layer slice as a mask. Due to the low cost of LCD units, MSLA has become a common technology for the budget desktop resin printer segment, but professional printers from Structo and Peopoly have taken the technology to the next level.
High area rapid printing (HARP) is definitely the newest technology with the biggest wow factor. Although not yet commercially available, developers of the method say their printers scheduled for release next year will be the world's fastest resin-based 3D printer that can create a plastic structure as large as a person in a few hours.
Know Your Needs
To uncover which machine will best meet your needs and budget, first ask yourself:
What are the qualities of the parts I need to print (flexible, sturdy, clear, etc.) and will I want to print different parts with different qualities?
How exact are my detail-requirements? For example, dental applications typically require print detail within 50 microns while product prototypes may require far less detail.
How big are the prints I need to make? Note that a large build volume can create one large item, such as a helmet, or many small items, such as 60 individual parts.
How much do I plan to print and how quickly do I need them printed?
Will I need to use biocompatible materials?
If you're in the dental industry, there's a growing number of resin printers specially marketed for creating clear night guards, models, and implants (see the dental section below). Likewise for those of you in micro-electronics or surgical implants – the growing resin printer market is branching out into more specialized areas. The potential advantage of this is that these manufacturers may have more subject-matter expertise and can offer best practices on the specific types of prints you're looking to make.
So Many Printers, What are the Differences?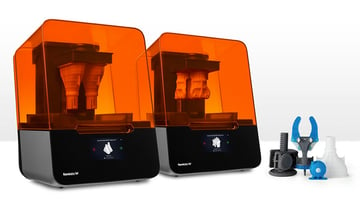 Although we give price ranges for the printers in our list, don't let that be your only guide. Consider how fast they print, how fine they print, and most importantly what materials they can print with. As with any major equipment purchase for your business, carefully evaluate durability and ease of maintenance, warranties and support, plus maturity of the technology and the level of industry adoption.
Resin printer manufacturers tout the uniformity and life span of their light sources, the ease of calibrating their build plate, the intuitiveness of their user interface, and special features, such as real-time image monitoring, software-driven control over conditions inside the vat, and a robust menu of compatible materials. Other bells and whistles of resin printers include mess-free resin cartridges, integrated automatic print-wash-cure handling, and variable temperature printing.
These features, and many more, will make – depending on your use case – subtle or significant differences in your workflow, efficiency, and end-result.
Understand the Details Behind Fine-Detail Stereolithography
If looking at a printer's technical specification sheet makes your head spin, know that you won't find huge differences within comparable price ranges using the same technology. For example, the finest XY resolution for resin printers (apart from the industrial micro printers) is generally around 25 – 50 microns (μm). (For reference, 50 μm is the width of a human hair.)
Some manufacturers only talk about resolution, while others mention resolution and accuracy. Resolution refers to the possible layer thickness, for example, 50 μm or 100 μm. The accuracy refers to the window of error for consistency print after print. For example, an accuracy of +/- 20 μm means your print resolution could be 20 μm over or under what you programmed.
In many industries, accuracy is critical. For most dental applications, professionals typically look for an accuracy of within 50 μm. For fine jewelry, some professionals require an accuracy of 25 μm, and for some medical applications and electronics, companies require a XY printing resolution of 5 μm with an even smaller accuracy, which you can find in a handful of ultra-high micro-precision printers.
The general rule is that the higher the resolution, the longer your parts will take to print. But this is where professionals and industrial machines differ from consumer resin printers; printing high-resolution parts quickly.