2020 Best CAD Software for Professionals
Getting to the bottom of which computer-aided design (CAD) tool is the right one for professional applications can be tricky. With that in mind, we've compiled a list of sophisticated CAD tools detailing the most relevant information, including compatible operating systems, unique features, and, of course, price.Back to BasicsWhat Is CAD Design? – Simply Explained
If you're new to CAD or looking to get your feet wet with basic programs, check out 2020 Best Free CAD Software (Summer Update) or CAD for Kids: Best 3D Modeling Software for Children.
| Software | Supported by | Market Price | Native file formats | Best for |
| --- | --- | --- | --- | --- |
| AutoCAD | Windows, MacOS, iOS, Android | $1,690/year | DWG, DXF | Professionals in all industries with a focus on 2D designs |
| Inventor | Windows, MacOS, iOS, Android | $2,085/year | IPT, IAM, IDW, DWG | All-around, esp. architecture, product design |
| Fusion 360 | Windows, MacOS | $495/year | F3D | Young entrepreneurs, small businesses |
| SolidWorks | Windows | $3,995 one-time fee, + $1,295/year | SLDPRT, SLDASM | Broad range of Industrial users, esp. aerospace, heavy equipment, and medical and energy sectors. |
| CATIA | Windows | $12,000 one-time fee, + $2,000/year | CATPart, CATProduct, CATDrawing | Industrial users, esp. automotive, aerospace |
| NX | Windows, MacOS, Linux | $5,900 one-time fee + $1,600/year | PRT | Large engineering teams needing PLM integration |
| Creo | Windows | $2,390/year basic, $15,000 Premium | BDL, PKG, SDP, SDAC, SDPC | Automotive, manufacturing teams needing custom tools and features |
| Onshape | Any web browser | $1,500/year | standard CAD file formats | Professionals needing collaboration features and SaaS |
| Solid Edge | Windows | $2,760/year Classic, $3,940/year Premium | PAR, ASM, DFT | Professionals in product design, construction, manufacturing |
| Alibre Design | Windows | $1,935/year + optional $465/year updates & support | AD_PRT, AD_ASM | Professionals focusing on early-stage and concept design |
ADVERTISEMENT
WHAT TO LOOK FOR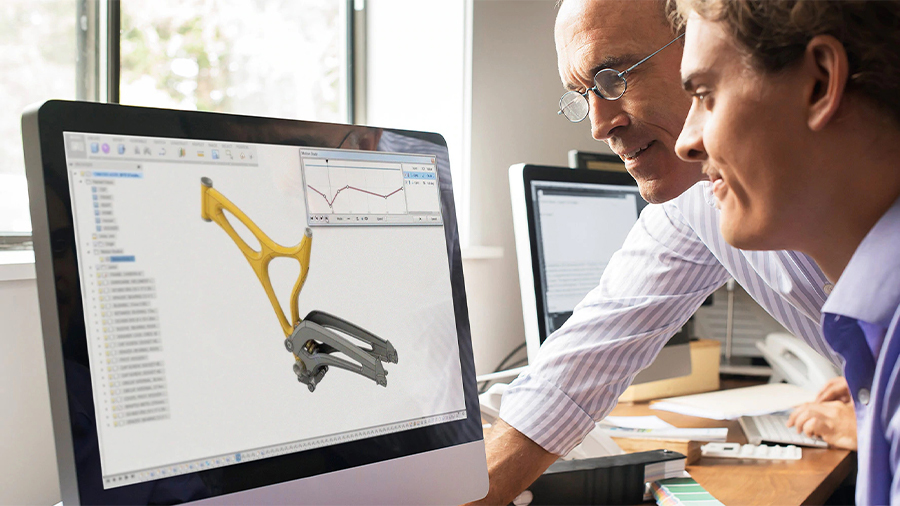 A few special considerations helps to narrow down the options (Source: Autodesk)
There are dozens of great professional-grade CAD products on the market. Each one offers a somewhat different toolset and user experience while sharing the same core features. It's knowing these differences, such as industry-specific features or team collaboration capacity, that's key to making the right decision.
With this in mind, we've established a few criteria for our professional products in order to remain objective and not overextend the list. Each of the options featured below have:
Both 3D- and 2D-drafting capabilities
Established use history in one or more industry sectors
Parametric modeling capabilities
1CAD SOFTWARE FOR PROFESSIONALS
AutoCAD is almost unbeatable in terms of flexibility and popularity (Source: Autodesk)
AutoCAD is likely the most-known computer-aided design program of all time. It's considered by many as the grandfather of CAD software, with the desktop application first available in 1982. Since then, its wide array of features continues to make it an extremely versatile tool. To add to an already great program, a mobile app has been available since 2010.
It's used across a wide range of industries, including architecture, engineering, and graphic design. It's often standard practice within manufacturing industries to use two separate CAD programs, one for product design and another for factory floor planning and layout. The latter is almost always AutoCAD.
While best known for its 2D drafting capabilities, it does offer standard 3D parametric modeling. The annual subscription is $1,690, but students and educators have unlimited free access for up to a year. Note that the feature set for the Windows and MacOS versions differ somewhat.
Best for: Professionals in all industries with a focus on 2D designs
Price: $1,690/year
Supported by: Windows, MacOS, iOS, Android
Native formats: DWG, DXF
Developer: Autodesk

Inventor is great for 3D printing applications and considered quite user-friendly (Source: KETIV Technologies via YouTube)
Inventor is one of the many design programs developed by Autodesk. It provides diverse modeling tools (parametric, direct, and free-form), documentation, and simulation capabilities in an all-in-one package.
It's considered slightly more user-friendly than its competitors and, for that reason, is commonly used by designers who don't have an engineering background. But don't think that Inventor isn't a powerful tool. On the contrary: It's primarily for professional applications, including architecture and product design.
Inventor is well established in the industry and has been on the market for more than 20 years, directly competing with other well-known options like SolidWorks. At this point you maybe asking yourself, well, what's the difference between AutoCAD and Inventor then? In a nutshell, Inventor is a program with a much narrower focus: Digital prototyping and simulation. It's manufacturing-driven, meaning its users are looking to get an experience as close to the real world as possible to know how their objects will perform. For a deep dive into the differences, check out AutoCAD vs Inventor: Autodesk CAD Software Compared.
Like all Autodesk programs, it's free for students and educators.
Best for: All-around applications, mechanical design, product simulation
Price: $2,085/year
Supported by: Windows
Native formats: IPT, IAM, IDW, DWG
Developer: Autodesk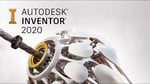 Fusion 360 is popular among hobbyists, small businesses, and start-ups. (Source: SolidSmack via Twitter)
Although it's been commonly associated with non-professional applications (for hobbyists and educational purposes), Fusion 360 is evolving to include newer technological solutions in CAD, like topology optimization and generative design.
The cloud-based software, which is also from Autodesk, automatically stores all files and studies within the user's Autodesk account. Unlike other CAD software, the native F3D files contain everything related to a project, from design to assembly, including the CAM-generated toolpath and simulation. Moreover, Fusion 360 performs heavy-processing tasks like rendering and generative design in the cloud.
This CAD option is ideal for entrepreneurs since it offers free licenses for start-ups and small businesses whose revenue doesn't surpass $1,000 per year. Students and educators also get a free, three-year license with all features, including simulation and CAM. The paid license is very economical, as well, at around $500 per year.
To learn more about how Fusion 360 compares to Inventor, check out Fusion 360 vs Inventor: The Differences. Note, however, that Fusion has had some upgrades since this article first appeared.
Best for: Young entrepreneurs and small businesses
Price: $495/year; free for small businesses (with revenue under $1,000/year)
Supported by: Windows, MacOS
Native format: F3D
Developer: Autodesk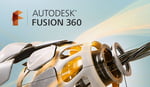 AUTODESK FUSION 360COMMISSIONS EARNEDCheck price
SolidWorks was designed as general CAD software that a wide range of industries can use. (Source: carlowerks via Honda Tech)
SolidWorks is solid-modeling CAD and computer-aided engineering (CAE) software that runs solely on Windows. It was originally created by an MIT graduate in the early '90s and is now developed and published by the French company Dassault Systèmes (3DS).
It's undoubtedly one of the most popular 3D modeling programs available. In contrast to 3DS's other products, SolidWorks was designed with a broader range of industries in mind, including shipbuilding, industrial equipment, architecture, and even the medical and energy sectors. It does require extensive training to make the most of its potential, and knowledge in engineering will surely help.
A license for SolidWorks costs $3,995 plus a $1,295 annual subscription for support and upgrades. Interestingly enough, one can't simply purchase a license directly from 3DS, as they only work through resellers, which usually also provide training and support. In fact, this is now standard practice within the CAD industry, and for this reason, prices may change depending on the country and reseller.
Best for: Industrial users in a broad spectrum of fields
Price: $3,995 one-time fee, plus $1,295/year
Supported by: Windows
Native formats: SLDPRT, SLDASM
Developer: Dassault Systèmes
The automotive and aerospace industries especially use CATIA for handling detailed parts and massive assemblies. (Source: Skyfi Labs)
CATIA is an acronym for Computer-Aided Three-Dimensional Interactive Application. This multi-platform tool wears three hats: firstly as 3D CAD software, then as computer-aided manufacturing (CAM) software, and finally as a CAE tool.
This software suite is also developed by Dassault Systèmes but specifically designed to handle highly-detailed parts and assembly required by sectors, such as automotive and aerospace. In fact, CATIA is the first CAD choice for most car-making companies, including Ford, Honda, Renault, and even Tesla. It was also used by Boeing to develop its 777 airliners and the newer 787 series.
Needless to say, it's the definitive advanced engineering tool and one of the top CAD software options on the market. It's commercialized just like SolidWorks, through local resellers, and the latest V5 basic license currently retails around $12,000 plus the yearly subscription of $2,000. Additional modules cost extra.
Best for: Industrial users, especially in automotive, aerospace, and so on
Price: $12,000 one-time fee, plus $2,000/year
Supported by: Windows
Native Formats: CATPart, CATProduct, CATDrawing
Developer: Dassault Systèmes
NX opens exciting new perspectives on design. (Source: CAD/CAE/CAM Tutorial via YouTube)
Developed by the industrial manufacturing giant Siemens, the formerly known Unigraphics stands among the best professional CAD tools available. NX works with state-of-the-art parametric, direct, and surface modeling tools and integrates seamlessly with Siemens' product lifecycle management (PLM) tools. This enables the collaboration among global engineering teams and keeps valuable documentation on project development.
On the more technical side, NX features comprehensive capabilities for analyzing a part's structural integrity to ascertain the functional capacity of a finished product, for example, its durability. With features like this, the applications of NX go beyond what other CAD software tools can offer, like proof-of-concept development.
Still, this CAD is considered a standard in a range of industries, especially automotive, being used by General Motors, Fiat Chrysler, Nissan, and Suzuki. A regular NX 10 license will set you back $5,900 plus $1,600 yearly for maintenance and upgrades.
Best for: Large engineering teams and PLM integration
Price: $5,900 one-time fee, plus $1,600/year
Supported by: Windows, MacOS, Linux
Native format: PRT
Developer: Siemens Digital Industries Software
Pro/ENGINNER was renamed Creo in 2007 when direct modeling tools were added. (Source: PTC via YouTube)
The Parametric Technology Corporation (PTC) is an American software company that was a pioneer in the CAD industry back in the '80s. They developed and launched the first associative feature-based parametric CAD software: Pro/Engineer. This solid modeling method eventually became the standard practice in the CAD industry.
Pro/Engineer was rebranded as Creo back in 2007 when direct modeling techniques were incorporated into the software. It carries the weight of years of development and has been used by corporate giants like John Deere and Caterpillar since the '90s. Nowadays, Creo is also heavily applied in the automotive sector, with global manufacturers like Volkswagen, Hyundai, and Toyota among its biggest accounts.
Like Siemens, PTC has its own PLM software, called Windchill, which is specially designed to integrate with Creo. The CAD offers special packages with mechanical, fluid, and thermal simulations, as well as CAM tools. Creo 6.0, released in early 2019, featured exciting new capabilities like augmented reality and additive manufacturing tools.
Best for: Professionals who want customizable packages
Price: $2,390/year for the basic package to $15,000 for Premium
Supported by: Windows
Native formats: BDL, PKG, SDP, SDAC, SDPC
Developer: PTC
Onshape is 100% cloud-based and works through web browsers across many platforms. (Source: AlternativeTo)
Onshape is a mighty enterprise-grade CAD software suite that is completely free for open-source projects. With that said, Onshape's paid edition is specifically aimed at professional users, who want version control and collaborative tools to work in large teams.
Conveniently, Onshape is entirely cloud-based, not requiring any downloading or local installation. As such, it works on pretty much every system you can imagine, including iOS and Android smartphones. It's relatively new software, published in 2012 by two former SolidWorks CEOs. At the end of 2019, however, it was purchased by PTC, the makers of Creo.
One of the most interesting features of this is CAD software is its collaborative mode. Unlike installed CAD and PDM, Onshape gives everyone on the team instant access to the same CAD workspace and the same data in one central place through the cloud. Another nifty feature is the ability to manage a master design without the need to save copies or keep track of numerous different file versions.
Best for: Professionals who require flexibility and teamwork
Price: $1,500/year for a standard subscription; free for students and educators
Supported by: Any web browser (Windows, MacOS, Linux, iOS, Android)
Native format: (standard CAD file formats)
Developer: Onshape (now owned by PTC)
Solid Edge is aimed at a user group apart from that of Siemens' other CAD products. (Source: Siemens)
Solid Edge is yet another old-timer, released in 1996 by Intergraph and purchased in 2007 by Siemens. Since then, it's been further developed by the German company. One might think Solid Edge would compete with Siemens' other professional CAD program NX, but in reality, each program is tailored to suit different clients.
For instance, Solid Edge is easier to learn and has simpler features, not to mention it costs way less than NX. To put it another way, it's a tradeoff between flexibility and ease of use (plus cost). Still, Solid Edge offers the same integration with PLM solutions and similar CAM and CAE capabilities.
Solid Edge is most known by its synchronous technology, a modeling technique that mixes both parametric and direct modeling, leveraging the simplicity of the latter with the high-level control offered by history-based modeling. It does, however, allow regular parametric and direct modeling.
Best for: Mid-range professionals in product design
Price: $2,760/year for the Classic version to $3,940/year for the Premium version
Supported by: Windows
Native formats: PAR, ASM, DFT
Developer: Siemens Digital Industries Software
Alibre Design's built-in photorealistic rendering offers a great tool for early-stage design. (Source: Alibre)
Alibre Design is an easy-to-learn yet powerful parametric CAD and CAM tool. It's been around since 1997, but isn't as popular as CAD software programs that began in the late '90s like Solid Edge and SolidWorks. Still, it offers standard parametric modeling with sketching plus surface modeling techniques. In addition, it can import meshes and convert them into solid bodies, a very handy feature when processing data from 3D scanned objects.
Alibre is a great tool for early-stage and concept design with its picture-perfect rendering capabilities and the material library that includes over 640 textures. Its 2D environment has also been praised for its automation and simplicity.
Alibre is available in two versions: Professional and Expert. Among the advanced features found in the Expert version is a comprehensive sheet metal design module that's capable of generating complex transition parts.
Best for:Professionals focusing on early-stage and concept design
Price: $1,935 for an Expert license; optional $465/year for updates and support
Supported by: Windows
Native formats: AD_PRT, AD_ASM
Developer: Alibre
Other Options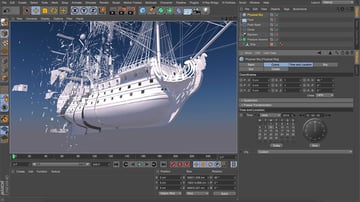 The 3D modeling world is wide and diverse. Although the following programs didn't meet all of our initial criteria, they definitely deserve recognition for being battle-tested professional tools used in distinct industries, such as jewelry, animation, and interior design.